DPI will produce exhibition displays for your trade shows, seminars, …
From our wide range of choices, you will find a portable display solution for your trade shows, seminars, outlets, etc. The stands we offer are easy to carry, quickly installed and reusable. Our displays come with an individual case that provides protection and ease of transportation.
Ask for a free estimate for this product
Printed quickly, easy to transport
Planning an exhibit for a trade show or a job fair? Then you know how important the arrangement of your stand is for its commercial success. DPI has been partnering with businesses for more than 20 years, and our experience is at your disposal to give you the best advice for the furnishings and accessories you need to outfit your portable stand. These stands are easy to transport, install quickly and are reusable. Our displays are delivered with an individual case that ensures protection and ease of transport.
In addition to the availability of media, DPI also does high-quality printing of all your visual displays. Logos, product posters, slogans… We can guarantee flawless printing on sturdy displays.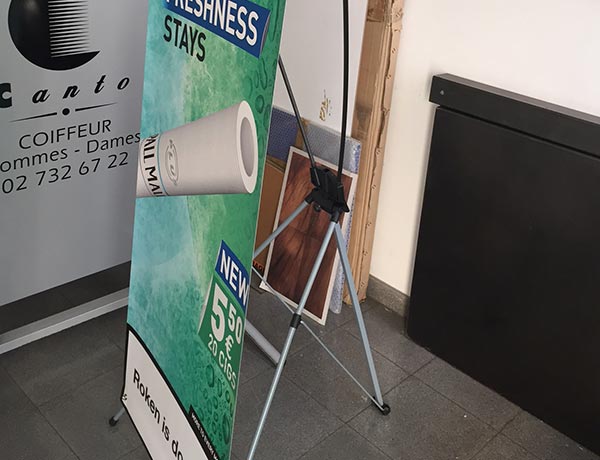 X Banner
Easy to use and lightweight, this entry-level stand is ideal for events. To install it, simply tighten the visual through the eyelets. The X structure gives it stability.
Size: 60 x 180 cm
Visual Xpo stand
The elegant Visual Xpo stand is the ideal tool of communication. The robust nature of the Visual Xpo stand allows you to use it repeatedly.
Size: 80 x 190 cm | 120 x 160 cm
Visual Mate stand
Equipped with a telescopic pole, the Visual Mate allows you to adjust the height of the display. Very compact, it also has enough flexibility, allowing you to change the visual. DPI guarantees high-end printing for all your images.
Maximum size: 60 x 180 cm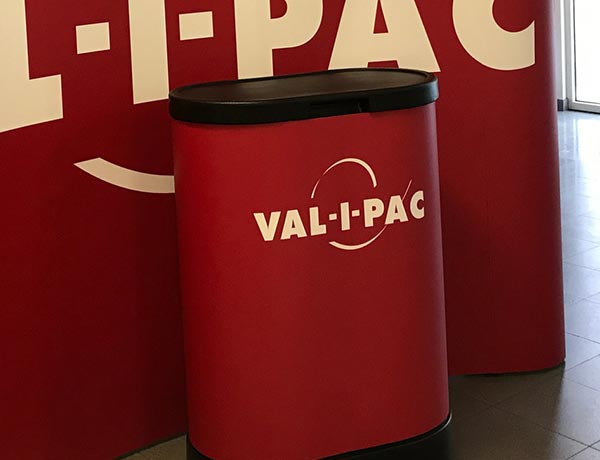 Foldable Home Counter
Draw attention to your stand with the Home folding counter! First, we print your visual image, then we glue it on a folding strip. All you have to do then is to stick this strip to the structure with Velcro, place it above the tablet and your stand is ready! Super quick to assemble, this foldable counter is delivered in 2 protective pouches (1 for the visual display and 1 for the structure and the tablet).
Visible format: 55 x H 85 cm
Printing format: 167 x H 90 cm
Umbrella counter
This umbrella counter is lightweight and very quick to assemble. You deploy its umbrella structure, then just install the visual images using magnetic strips and put it on the colour wood tablet provided. You can also install 2 shelves inside the structure, where you can put your brochures and other documents. Quick and simple to use, this Home umbrella stand offers you great visibility. It is delivered in its transport pouches.
Visible format: 96 x H 85 cm
Printing format: 196 x H 95 cm
I would like a free quote for printing on exhibition display
DPI specializes in digital printing in Belgium, and can place all of their know-how and experience at your disposal for all your large-format printing needs. Our establishment can offer you printing on different types of advertising media to meet all your professional needs.