DPI prints custom designs on front-lit banners, mesh (micro-perforated), backlit and blockout
Digital printing banners create visual presentations that can be used both indoors and outdoors. At DPI, we print digital sheeting in large and extra-large formats, always supplying superior quality. We offer different finishes. Contact us now.
Ask for a free estimate for this product
A full range of services
Optimize your communication with digital printing on an advertising tarp! With more than 20 years of experience in large-format printing, DPI will produce and print your visual images in any size you desire. No matter what finish or dimensions you choose, our custom-manufactured tarps can all be used either indoors or out.
The quality of material used guarantees a long useful life, as well as colours that are always bright despite long exposure to the sun.
Front-lit Banners
For fairs, trade shows, conferences, seminars or workshops. For indoors or for outdoors, our advertising banner fits all your needs. We offer two types of finishes: pole pockets or hems and/or grommets.
Mesh banners
Printing on the micro-perforated material (mesh) allows light to enter the building. The small holes allow air-flow which allows the wind to dissipate. It is also lightweight. Indoors or outdoors, the mesh is your ideal event printed material.
Backlit tarp
The backlit (or diffused) matte finished banners give off a powerful and elegant impression. By printing "double strike", contrasts are highlighted, and the richness of the colours is perfect. The backlit tarp allows the diffusion of light over its entire surface. It is perfect for your refined communication.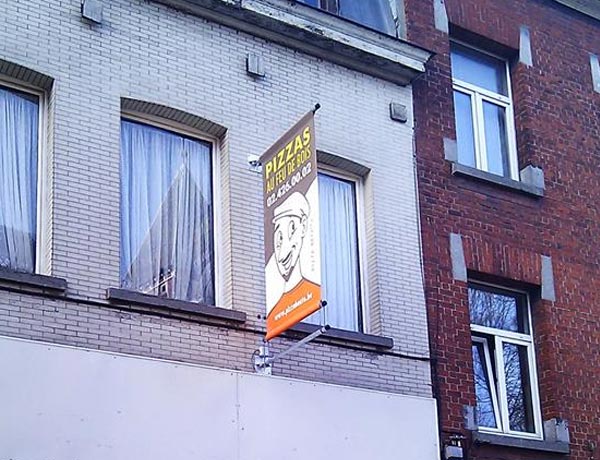 Blockout banner
The blockout banner is 100% opaque. It is the ideal material for signs and especially for use near a strong light source. It can be printed recto/verso, and has a durable life.
Extra large printing on tarp
DPI will print your very large format advertising banners. Thanks to the used aluminum profiles, the size is unlimited and the tension perfect. The tension of the sheet is done through PVC joints that are resistant and adapted to each implementation. Need something special? We have a solution for you.
You can trust your advertising tarps to DPI, the leader in large-format digital printing in Belgium! Be sure to discover our other printing media, like handbills, display panels, posters or even lightboxes.